Upcoming School Board Election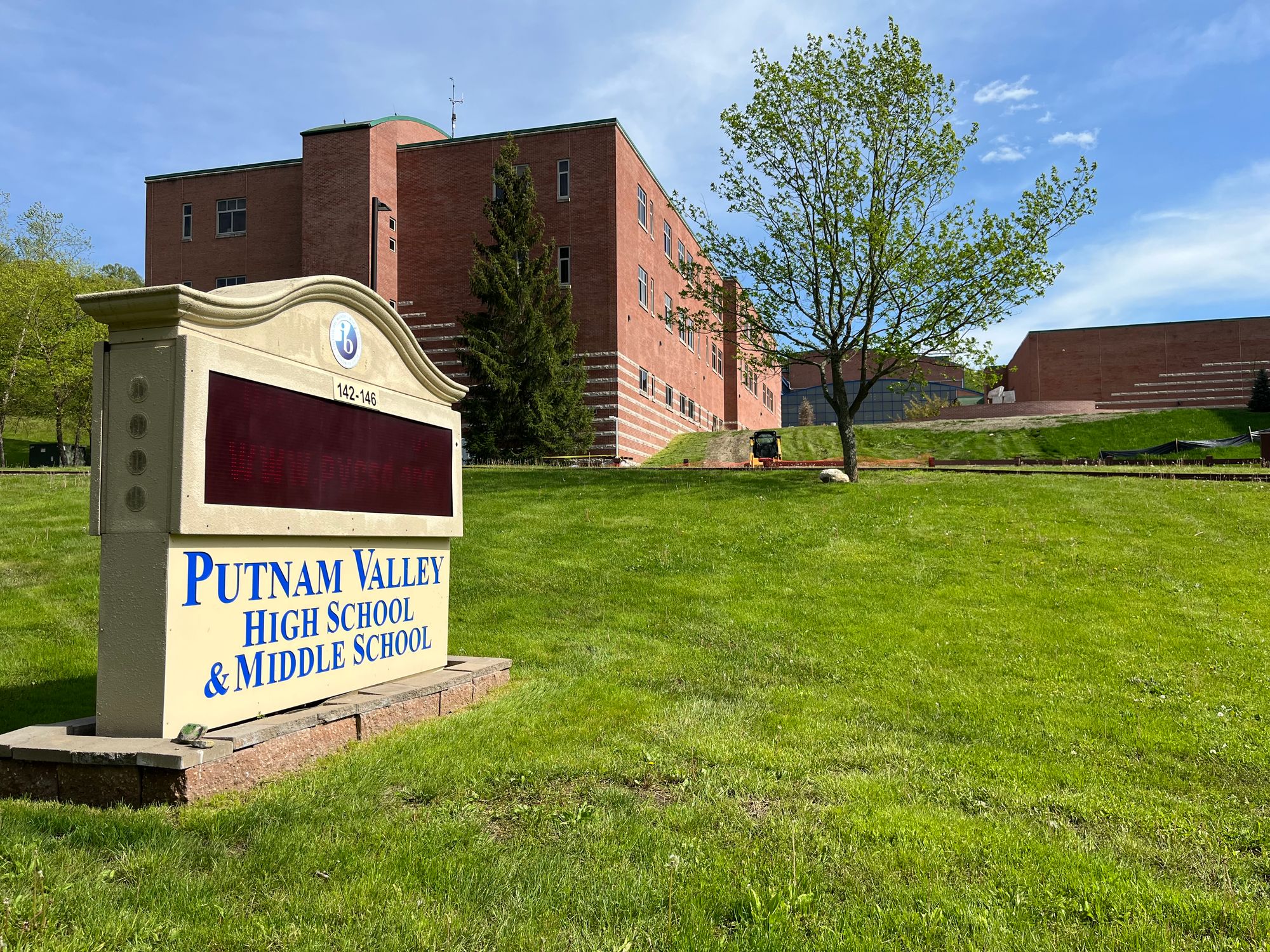 Not so long ago, local school board elections were a relatively tame affair. But with parents becoming fiercely divided over issues like transgender rights, book bans, critical race theory, and Florida's "Don't Say Gay" law, those days are over.
On May 16th, residents in the Putnam Valley Central School District will have an opportunity to choose a new trustee on the five-person board for a three-year term. With a $58 million budget that dwarfs that of the town's $16 million, you might think we would all be deeply invested in our local school board election. Yet, on average, just 850 people show up out of the 7,600 registered voters in the school district, a paltry number compared to the 3,000-plus who regularly flock to the polls to elect town board representatives in what are often hard-fought partisan battles.
Two candidates are vying for this year's school board seat: Joseph Ferraro and Crystal Hernandez. Ferraro is the board's current vice president and has served as a trustee since 2010, when his children were in the Putnam Valley school district. He works as a fundraiser for nonprofit organizations and is a registered Democrat. Hernandez is running for the first time. The mother of three, she and her husband, who she notes is an NYPD police officer, have lived in Putnam Valley for almost five years. A registered Republican, she is the principal at one of Peekskill's public elementary schools.
The League of Women Voters recently held a "Meet the Candidates" evening at the high school to help people decide who to vote for. In case you missed it, here's the link.
In general, both candidates hewed to middle-of-the-road positions in that session, saying they support the proposed school district budget, believe in prioritizing students over all else, support diversity, equity and inclusion initiatives, and recognize the importance of paying teachers and staff appropriately.
At several points, however, their positions diverged. When asked how their religious beliefs would affect their decision-making, Hernandez said, "Faith is at the core of who I am... my values and my morals stem from my faith." She was careful to add that she believes in the separation of church and state and respects the values and beliefs of others. Ferraro declined to answer the question directly, saying, "As far as religion and faith, I'll defer on answering that question, as I don't think it's an appropriate conversation in a school building."

Ferraro's candidacy has not appeared to stir up much excitement, perhaps because he is a well-known figure to the small number of those who typically vote in this election. Hernandez's candidacy, by contrast, is highly visible, thanks to her lawn signs, active social media efforts, and in-person meet-and-greet sessions. As her campaign has unfolded, she has become somewhat controversial on Putnam Valley Voice, a private Facebook group with about 3,100 members. In her profile, Hernandez identifies herself first as "Christian" followed by "wife, mother, educator...". She also describes herself as a "God-fearing woman".
Responding to questions on Facebook about whether she is a Moms for Liberty candidate, Hernandez replied: "I was not put on the ballot by Moms For Liberty or any other group. As a matter of fact, I drove to over 20 houses on my own time, in my own car, powered by my own gas that I paid for, oftentimes with my kids in the car, to collect the signatures I needed for MY petition. I have also thanked those who are a part of that group for their support, and have respectfully requested that they honor my request to remain untied to any one organization."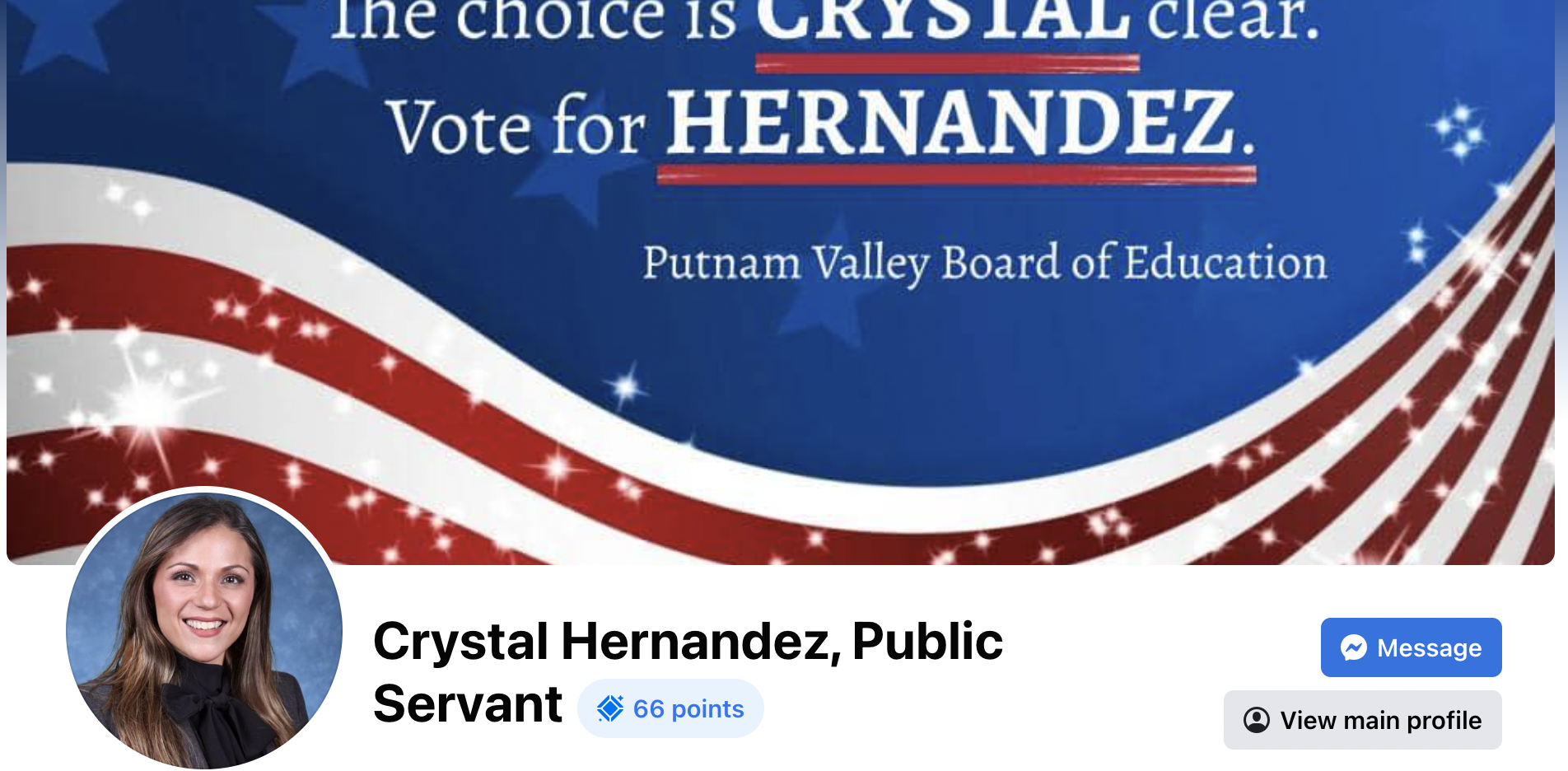 In that same Facebook group, Hernandez was repeatedly questioned about book bans, to which she responded: "I believe that books should be developmentally appropriate for children and that they should be used to teach author's craft, not an agenda, whatever that agenda might be. I do believe that we need to honor all people, cultures, values, beliefs and heritages. I am a culturally diverse person and my culture has played a huge role in who I am."
She continued: "I do not believe that the purpose of any of the books in our school library should be to convince or sway children that a certain way of life is better than another. I believe that responsibility belongs to the parent. Now, if the parent chooses to expose their children to certain texts, ideas, or ways of living, that is certainly within their right and it is their responsibility to do so. That might be through books of their own, or even through the public library. However, the school should not take on that responsibility. The school should be focused on nurturing the child and building a solid academic foundation."
Another member of the Facebook group pressed Hernandez for more detail, writing: "'Age-appropriate' is a definition that could be used academically or subjectively. Is it not age-appropriate for all families to have themselves represented in literature students can access at school?"
Hernandez replied: "I do not believe that we need to expose young children to images and information that their young minds are not yet able to handle. This is what I mean by age appropriate. Similarly to how movies are rated, as an educator, I would not deem it appropriate for a 5 year old to read a book that was violent or sexual in nature. Those are the moral standards I personally have and stand for."In the "Meet the Candidates" forum, Hernandez's responses added little to the Facebook exchange on that issue.
The other issue where the two candidates took different positions involved Proposition 3 on the ballot, which requests that the budget of the town's library be increased. Ferraro said he supported the proposal; Hernandez declined to answer, saying she wanted time to do more research.
If you have ideas for future stories or want to provide feedback, please send an email to watchingputnamvalley@gmail.com.