Our voice in the county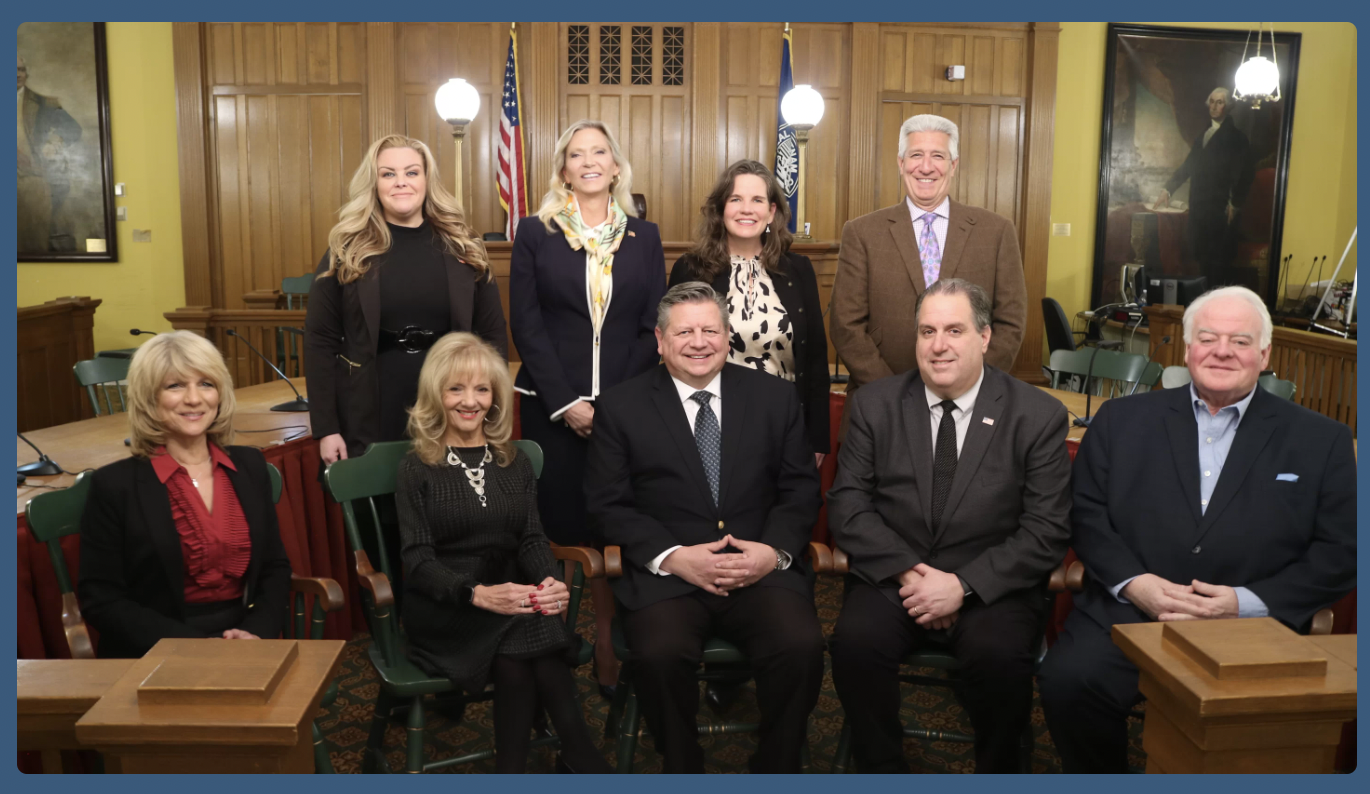 Rarely do political issues divide our town board strictly along party lines. The same cannot be said for the Putnam County Legislature. There, eight Republican legislators tend to vote in lockstep, with the one Democrat, Nancy Montgomery, often isolated in her positions.
This November, the person representing most of Putnam Valley, William Gouldman (far right in the photo), is running for his fourth and final term, due to term limits. A Republican, Gouldman is running against Democrat Maggie Ploener.
The race pits a veteran political operative with strong ties to the new county executive, Republican Kevin Byrne, against a relative newcomer to the political scene who would likely vote in staunch opposition to Byrne's policies. In a previous profile, Ploener said she became interested in running after watching the legislature vote in favor of an anti-abortion resolution and against a proposed state law to increase environmental protection of local streams.
Examples of other issues on which there is a sharp divide between Ploener and Gouldman include:
Gouldman wants to repeal legislation recently passed in Albany that limits gun-carrying in sensitive areas such as places of worship and parks; Ploener does not
Gouldman supported Byrne's resolution to make us a "Rule of Law" County, an iteration on his initial "Constitution County" notion; Ploener would have voted against
Gouldman supported Byrne's resolutions prohibiting homeless shelters for immigrants and/or asylum seekers in the absence of shared services agreements; Ploener would have opposed them
In representing the town on controversial issues, Gouldman often notes his alignment with Putnam Valley Supervisor and fellow Republican Jacqueline Annabi, whose public statements he occasionally reads into the record.
Over the last few years, Gouldman has drawn criticism for being largely absent, particularly when the county construction project at the Peekskill Hollow Road Bridge ground to a halt. He is also rarely a presence at monthly town board meetings. After announcing his decision to run again, Gouldman noticeably ramped up his posts to social media sites, where he shares public service announcements on topics like flu shot availability and child safety awareness week.
"Since I came into office, in 2015, all the budgets have passed, we have held down out of control county contracts, kept the county social safety net in place, enhanced public safety, kept cultural programs viable and added services for senior citizens and veterans, all without reducing essential county services", Gouldman wrote in announcing his re-election campaign.  
As a newcomer without political experience opposing a long-serving incumbent, Ploener faces long odds. She hopes to excite voters with fresh ideas for how to improve Putnam Valley, such as bolstering the population in the town center by seeking state grants to build affordable housing for seniors and artists; pairing up with a university to get private wells tested at low or no cost; and building electric vehicle plug-in stations. To raise her visibility, Ploener is holding "meet and greets" at Pancho & Gringos Restaurant at Oregon Corners every Monday through November 6th, from 4:30pm to 6:30pm.
If history is any guide, the election outcome will rest heavily on voter turnout. When Gouldman ran in 2014 and 2017, his opponents garnered more Democratic votes than he earned from Republicans. However, in both cases, he won because he also ran on the Conservative and Independent lines. This time around, there is no Independent line and Ploener is also running on the Working Families Party ticket. In 2014, Gouldman's margin of victory was 304 votes; in 2017, it was just 187 votes. He ran unopposed in 2020.
If you have ideas for future stories or want to provide feedback, please send an email to watchingputnamvalley@gmail.com.